Weekend Athlete: 2009 Subaru Forester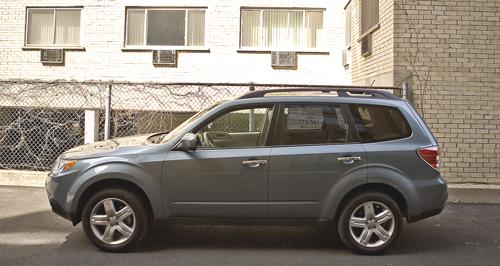 Ever since New Coke, I'm leery whenever someone decides to "improve" something I like. So when Subaru said it was redesigning the Forester, I knew I had to drive it, but I was a bit afraid of finding out what had changed. The old car was a gem. I've rented one several times and it took me to many cross-country ski trails and races. The new model had a lot to live up to.
Well, I've got good news: Subaru didn't mess up. The new Forester still tastes like old Coke … or whatever.
There's a long-form review that covers the changes, as well as how the Forester performs off-road, so I'll focus on its toy-carrying abilities. In that department, it excels in every category.
I'd have no hesitation taking four people camping in this car. The cargo area is enormous and, in a true improvement over the old model, there's more legroom for rear passengers.
My bike went in with so much extra space left over I'd need to secure it with bungee cords to keep it from flopping around. That's so much nicer than the cars where I have to wedge my bike into place.
Same deal with the camping stuff; there was plenty of room and plenty of different ways to configure the cargo. The hatch also opens nice and high, so I didn't bang my head when I loaded my stuff.
Just to be sure, I asked one of the shorter athletes in the office to check the liftgate's height, and she said it was fine, so I can recommend this car to shorter folks, too. The load floor isn't too high, either, which should help everybody.
If there's a downside, it's that I liked the look of the old one so much more than the new one. The old model stood out from the rest of the small SUV crowd by being more of a wagon, yet it was brawnier than anything else in the Subaru family. I think the old look carried much more locker room cred, too, because it was shorter and therefore easier to use a roof rack on — if that's your thing.
A lot of times I'll qualify my recommendations by saying something like, "If you don't want a sedan, test-drive this car," or "If you don't want a SUV, try this one," but with the Forester I think it deserves strong recommendation no matter what you're shopping for. Yes, it's shed its brawny, wagon look for a more bland SUV style, but it remains quite capable. Even if you hate the SUV look, consider this car if it fits your budget.
Weekend Athlete Scores (out of 10)
Ease of loading gear — 9: Lots and lots of room, and the easy-opening hatch was the clincher. Ease of seat operation – 9: Simple knobs are best.
Bike hauling — 9: The bike went in easily with the wheels on, meaning the Forester lovefest continues …
Locker room cred — 5.5: … until now. The new look blends in, saying, "I'm not secure in a wagon." If you're not secure in a wagon, how secure are you going to be on a bike going 35 mph wearing nothing but shorts and a helmet?
All-around — 8.5: It's a solid choice if you like to go places with outdoors stuff.