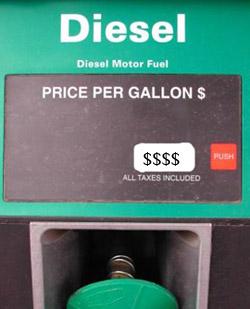 Many drivers probably remember a time when diesel fuel cost less than gasoline, or at least was about the same, but today the average price for a gallon of gasoline is $3.79, while a gallon of diesel runs $4.55. So what gives? They're both made from the same stuff, right?
True. However, there are a few factors driving up the cost of diesel. First of all, much of the diesel used in the U.S. is refined in Europe, where, due to favorable tax policies and fuel efficiency, diesel cars have made a major comeback. This increases demand for diesel fuel. Meanwhile, here in the states high gas prices have led Americans to consume less gasoline. In turn, refineries have scaled back their overall production to adjust to the lessened demand. However, the demand for diesel fuel remains the same even though refineries are processing less fuel overall.
Lawrence Goldstein of the Energy Policy Research Foundation told The New York Times that "it is as if sirloin had become so expensive that demand dropped, so farmers raised fewer cows, reducing the supply of hamburger — but hamburger remained as popular as ever."
It is also important to note that the federal excise tax on diesel is six cents higher per gallon than gasoline, according to the Department of Energy.
High diesel prices create an interesting conundrum for carmakers like Mercedes and BMW, which are trying to bring clean diesel vehicles to the U.S. These vehicles, while efficient, might now face a tough consumer response.
So You Think Gas Costs a Lot? (The New York Times)