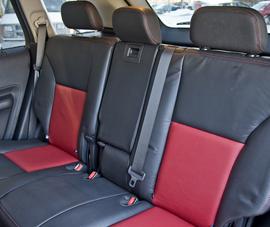 Take a second and try to imagine what seat in your car, truck or SUV is the safest.
OK, let's clarify: Which rear seat is the safest? The ones with side-impact airbags? Nope, it's the one in the middle. At least, it usually is. But not always.
So said Russ Rader, spokesman for the Insurance Institute for Highway Safety. It makes sense: Curtain airbags notwithstanding, the middle seat puts you farther away from side impacts. It's the safest spot in the car, especially for children. If you're in a three-row SUV, the middle seat of the middle row is the safest bet, Rader said.
It gets a bit more complicated, though. Many cars don't have a whiplash-abating head restraint in the middle seat, but they do offer them for the outboard seats. That doesn't really change much, Rader said. The larger issue is still the distance from an area of impact. Most serious crashes usually occur from the front or side, so the lack of a head restraint doesn't offset the benefit of sitting in the middle, he said. And don't worry about the pinball effect — if you're properly belted, having extra space between you and the impact doesn't mean you'll be thrown around more.
Here's the exception: Older cars have only a lap belt in the center, while the outboard belts are conventional three-pointers. Most models built in the past five years have a three-point belt in the middle, and the shoulder element adds significant safety value — so much that if you get into a car without one, you're better off sitting in an outboard seat, Rader said.

In such situations, is one side less ripe for T-boning than the other? Rader thinks not: "People run red lights from both directions," he said.

Of course, if safety trumped everything else, we'd wear helmets and five-point harnesses every time we drove the five blocks to Target. Center floor humps, a harder cushion and less headroom can make the middle seat about as appealing as seeing your local gas station attendant changing the big board when prices go up.

Though the middle rear seat is best, Rader said any seat with a proper three-point belt should be safe enough. Our advice: If you don't mind the inconvenience, sit in the middle. But if you want an outboard spot, don't sweat it — just make sure that wherever you end up, you buckle up.