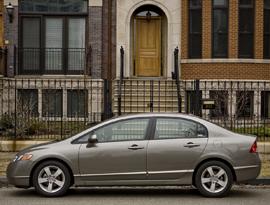 May sales numbers are in, and the Honda Civic has not only overtaken the Toyota Camry as the best-selling car in the country, it has also surpassed the Ford F-Series as the best-selling vehicle of any kind in the nation.
This radical change in top-selling vehicles has a lot to do with consumer sentiment and high gas prices. Even so, the Civic — up 28.3% over May 2007 — still topped other economical models like the Toyota Corolla and Ford Focus. Of the 53,299 Civics sold in May, 4,676 were hybrids. Honda also does not sell to fleets, unlike Toyota, Ford and Chevy. Some fleet sales can total between 5% and 30% or more, depending on the model, and are included in monthly sales figures.
Yes, even the Toyota Corolla is sold to fleets. Hertz even offers a rental of the Corolla as a green "upgrade," charging more for it than larger cars because of its fuel savings. Toyota also includes Matrix sales in its Corolla total despite it being sold and marketed separately from the Corolla name. Both models were redesigned earlier this year.

When asked earlier today about the possibility of Honda achieving the No. 1 mark, Honda spokesman Chuck Schifsky played down the importance. "Our concentration is providing efficient cars that people want," he said. "Who we pass along the way … we're not hanging on that too much."
For the list of the top 10 best-selling vehicles in the U.S. in May, click below. Note that these are only results posted so far today, but there are few mass-volume models whose sales figures have not yet been released.
Top 10 May Sales
Honda Civic: 53,229 (including hybrid)
Toyota Corolla: 52,826
Toyota Camry: 51,291 (including hybrid)
Honda Accord: 43,728 (including hybrid and coupe)
Ford F-Series: 42,973
Chevy Silverado: 37,020
Nissan Altima: 34,428 (including hybrid and coupe)
Ford Focus: 32,579
Chevy Cobalt: 26,702
Chevy Impala: 23,803