First Drive: 2009 Nissan Maxima
Nissan invited journalists this week to amble through North Carolina in the 2009 Maxima, a car we raved about at last winter's New York auto show, before driving it. The sedan hits dealerships later this month, and though pricing is still under wraps, Nissan said it will likely run from about $28,000 to $34,000. Time to see if the Maxima has some bite to back up our bark.
The short answer: Yes and no, but mostly yes.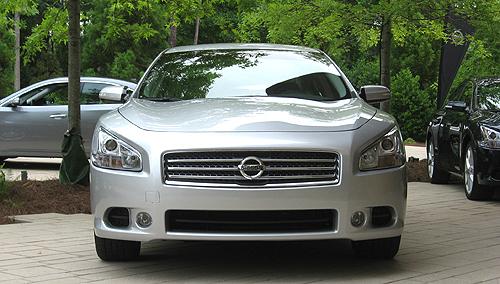 My five hours in a Maxima 3.5 SV didn't evoke the sort of sports-car appeal Nissan had promised, but at day's end I took out a car with the optional Sport package, and it comes a lot closer to hitting that mark. Either way, the Maxima seems most like a straight-up luxury car with a non-luxury badge. It blurs the lines between Nissan and Infiniti quality, so don't let the badge fool you — if you're thinking of a Lexus ES or Acura TL, the Maxima is worth a close look as well.
Behind the snoutish grille sits a 290-hp version of the same V-6 that moves everything from the Altima to the Infiniti G35. Though it represents a 35-hp gain over the outgoing Maxima, it doesn't feel much quicker. Not that either car was slow, but you don't get the fierce get-up-and-go in the Maxima that you do in the smaller G35, but that's an actual sport sedan.
Like it or not, performance is inextricably linked to the Maxima's continuously variable automatic transmission. Nissan is bullish on all things CVT, and the Maxima's is generally par excellence: Give the gas a prod, and it leaps from a fuel-sipping 1,800 rpm to punchier areas in the 3,500 rpm range with instinctive immediacy. It's also free of any low-speed hiccups that plague certain conventional automatics, as well as the outgoing Maxima's CVT. But it still has that rubber-band-like uncertainty as you're accelerating hard that many CVTs exhibit — a reason, my journalist co-driver and I concluded, that they have made limited inroads among luxury cars.
Nissan has attempted to address said rubber-bandedness with Drive-Sport mode, which simulates any number of fixed ratios among the infinite possibilities. It's supposed to allow you to nail the gas out of a corner with the natural, progressive buildup a normal automatic might provide. It does a better job of it than when you leave the gearshift in Drive, but it really doesn't match the magic of a well-groomed automatic — there's still some fudging as it tries to optimize acceleration.
Now for the good: With the Sport package, the Maxima is a wee bit of fun. Body roll is limited, steering is precise and the brakes are sure-footed. Non-Sport models are one for three — the brakes are just as good — but in return their softer suspensions yield the sort of ride comfort that would satisfy a Lexus fan.
The cabin should, too. Materials beat the stuff in a Toyota Avalon and quite possibly an ES 350 or Buick Lucerne, with soft-touch plastics lining the dash and Infiniti-spec controls down the center. Options range from a heated steering wheel with powered tilt/telescoping adjustments to three-zone climate control. The selection is as good as any luxury brand might offer, and fit and finish are generally beyond reproach.
The Maxima's 26-mpg highway rating falls short of the Avalon's 28 mpg, and it requires premium fuel — no doubt factors that will give non-luxury shoppers pause. But for those shopping luxury marques, driving dynamics and cabin quality should outweigh those issues, and Nissan scores points here. I'll save my final word until I get some more time in the Altima that's in Cars.com's garage this week — a reigning criticism is the Maxima is too much like the Altima, which I haven't driven in a year — so stay tuned for the full review. For now, the early verdict is that among $35,000 upscale cars, cabin quality and handling dynamics could make the new Maxima an unexpected bargain hit.