Mercedes Gear Integrates iPhone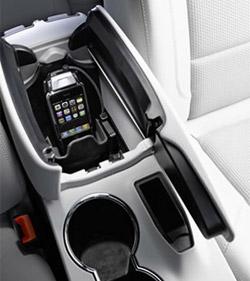 iPhone owners rejoice!
As if it weren't already clear that your does-everything-but-actually-serve-as-a-kitchen-sink device is on its way to complete world domination, Mercedes-Benz has introduced a fancy piece of tech that integrates the iPhone into a cradle between the driver and passenger seats.
When docked in the cradle, the iPhone can be controlled via the steering wheel, and all phone and audio functions are accessible. Beginning in August, Mercedes will offer the integration kit for previous model-year vehicles, while '09 vehicles will have Bluetooth and an optional music interface already integrated, according to Dan Barile of Mercedes-Benz USA corporate communications. Pricing has not yet been finalized, but in Europe the cradle is going for $389 as an option.
No word yet on whether Mercedes is working on a cradle for the Microsoft Zune.