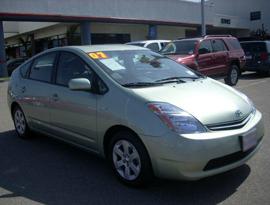 We spent a good chunk of yesterday calling car dealers nationwide trying to find a new Toyota Prius or Honda Civic Hybrid to buy. We logged quite a few phone calls — as interested buyers, mind you — and not one dealer had an actual vehicle on the lot. We recently ran our list of the fastest cars moving in and out of lots, and both ranked quite high, with the Prius and Civic Hybrid selling in 11 and 20 days, respectively.
According to more than one salesman, however, they sell "before they get off the truck." So, how do you get one of these hot sellers?
Either get on a waiting list or buy used.
Waiting lists for the Prius, we're told, are roughly four to six months. The Civic Hybrid was less, at three to four months on average. Obviously your local dealer may have a different number, and if you find one that you want to share, please do so in the comments below.
If you buy used, expect to pay up. Listings of used Priuses on Cars.com show models across the country — with quite a bit of mileage — going for more than their original asking price when brand new. This is almost unheard of in the automotive marketplace. We talked to one seller named Cathy in California. She's selling a 2007 Toyota Prius with 20,000 miles on it for $32,500. She bought it a year ago for her daughter, new, for $26,200. To be fair, she got an extended warranty and maintenance packages, and the dealer gave her a $4,000 discount at the time. She's also tinted the windows and there are four new tires.
Now, her dealer can't even get a new Prius into his dealership. Cathy has had the car listed for a few weeks and has gotten some email interest, but no takers. She plans on keeping the price in place, and even her local dealer told her not to lower her asking price. She's just one example of dozens we found.
Most cars lose 15-20% of their value during the first year of ownership, and now people selling their used Priuses are actually looking to make a profit. It's a crazy world these days. Tell us what you think and if you'd go the waiting list or used route. Personally, we can't wait to see the Honda CR-Z hit the streets.