Beware Flood-Damaged Cars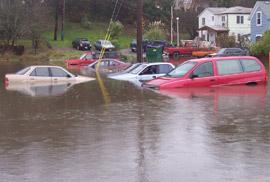 Now that it looks as if the massive flooding in the Midwest has begun to ebb, it's important to remind car shoppers to be on the lookout for unscrupulous individuals or used-car dealers trying to unload a flood-damaged vehicle. After Hurricane Katrina, the practice of repairing and reselling these cars got a lot of attention.
Cars that have been submerged under water can have serious mechanical or electrical problems, but it's easy enough to repair the physical evidence of the vehicle's problems. Furthermore, it's easy to hide a car's history by moving it through states that don't require specific information in the car's title.
According to Carfax, there are some specific things consumers should be on the lookout for to avoid buying a flood-damaged vehicle. Read below for tips.
Inspect the interior: Check the trunk, glove compartment and other storage areas, dashboard, and underneath the seats for signs of sand, mud, moisture or rust. Check for frayed or cracked wires underneath the dashboard and make sure all the gauges work.
Examine the interior fabric: Look closely at the upholstery and carpeting. If it doesn't match the interior or fit properly, it may have been replaced. Discolored, faded or stained fabric may indicate water damage.
Test electrical components: Test the interior and exterior lights, windshield wipers, turn signals, stereo, windows, mirrors, seats and cigarette lighter.
Try the heater and air conditioner: Make sure both the heater and air conditioner work. While the A/C is on, check for musty odors.
Have the car inspected: Visit a trusted mechanic for an inspection before you purchase any vehicle.