Can Mercedes Become Fossil-Fuel Free in Just 7 Years? Probably Not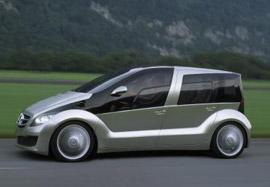 British paper The Sun reported that a top engineer for Mercedes-Benz said the company could ditch petroleum-fuel vehicles entirely by the year 2015.
The headline is a bit misleading because the engineer, Herbert Kohler, actually said that he saw alternative fuel and electric vehicles becoming dominant in urban areas by 2015. Still, the story was meant to highlight the rapid progress Mercedes hopes to make in shedding petroleum as the primary fuel for its cars. Ranging from Smart electric city cars to the Mercedes-Benz-branded hydrogen fuel-cell F600 Hygenius, the German automaker is trying to get a jump on the expanding market of alternatives to gas and diesel.
But then again, so is everyone else.
With 2010 acting as a de facto kick-off date for the supposed revolution of plug-in electric vehicles and other gas-light, environmentally friendly vehicles, Mercedes too has joined in the quest to manufacture the greenest cars. Still, it's one thing to invest in fuel-efficient technology and another to say that in seven years an automaker will only manufacture cars that don't need a drop of gasoline. But if a car company were to add more expensive, fuel-saving technology, it would help if its buyers were already used to spending luxury-car money at the dealership.
Merc Plan Fuel Seven Year Ditch (The Sun)