Diesel Ford Fiesta Gets 63 MPG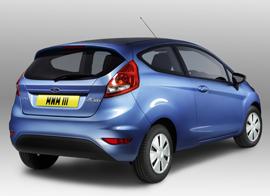 When the all-new Ford Fiesta comes to the United States in 2010, it most likely won't come with a diesel engine at all. That's too bad, because today Ford announced the UK version of the Fiesta with a 1.6-liter turbodiesel engine that will get a combined 63 mpg (converted from 76.3 imperial mpg) in both two- and four-door hatchback versions.
Ford is calling the diesel Fiesta the cleanest car in England, producing just 98 grams of CO2 per kilometer driven. One figure we've seen says the average in Europe is 160 grams of CO2 per kilometer driven, with a voluntary industry standard of 140 grams per kilometer set for 2008, which doesn't seem to have been met. Obviously, the bigger the vehicle the more emissions it will have.
We wrote about the possible gasoline engine intended for the U.S. Fiesta getting 38.9 mpg. Today's figures make that number seem paltry in comparison.
More Fiesta News (KickingTires)