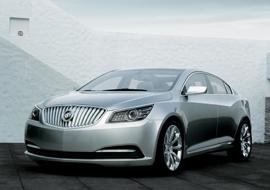 GM is slashing production of pickups and SUVs, but its showrooms will be far from empty.
The company has approved plans to add more cars and crossovers over the next 18 to 24 months to lure customers back into the GM fold.
GM chairman Rick Wagoner told employees during a special closed-circuit televised meeting Tuesday that, while truck output is being cut by 300,000 units by the end of 2009 in response to high gas prices and reduced consumer interest, several new cars and crossovers are being added to make up for the losses.
He said 18 of the next 19 product introductions at GM will be cars or crossovers.
He said the new entry-level compact Chevy Cruze — whose fuel economy is estimated to be 9 mpg better than a Chevy Cobalt — will begin production in the U.S. in mid-2010. It will replace the Cobalt at GM's Lordstown, Ohio, plant.
The next-generation Chevy Equinox crossover will begin production in May 2009 featuring a new four-cylinder engine that Wagoner said will get mileage similar to that of a hybrid.
The next-generation Cadillac SRX crossover, which was introduced at the Consumer Electronics Show last January as the Cadillac Provoq concept vehicle, will go on sale in the second quarter of 2009 and will be marketed globally.
The often-rumored Cadillac station wagon will be called the CTS Sportwagon and has been approved for production next spring.
At the Detroit auto show earlier this year, GM unveiled a Cadillac CTS coupe concept. It, too, has been given a production thumbs-up for the summer of 2009. Will it get a convertible version? Stay tuned.
Buick introduced a concept rear-wheel-drive Invicta sedan at the Beijing auto show in April, powered by a turbocharged, 250-hp four-cylinder engine. As expected, it will go on sale next spring in the U.S. as well as in other global markets.
Saab will expand its product range with an all-new 9-4X five-seat crossover that's headed to showrooms in the fall of 2009.
Wagoner said these are just a few of the new GM products headed for markets in the U.S. and around the globe over the next 18 to 24 months.