Hummer Prices New H3T Truck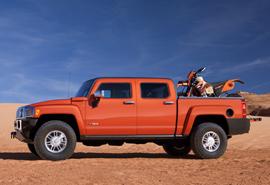 Not even a year ago, people were clamoring for a pickup truck version of Hummer's smallest SUV to date, the H3. Now Hummer as a brand has a cloudy future as GM considers unloading it and its plummeting sales, which are down 40% so far this year with no sign of recovery. With that as the backdrop, we give you the starting price for the all-new 2009 Hummer H3T pickup: $30,750, not including $745 in destination charges. That's almost $2,000 less than the starting price of the Hummer H3 SUV, which is currently enjoying a blockbuster $7,000 incentive.
Mileage figures aren't official yet for the H3T, but we assume they'd be similar to the SUV's 14/18 mpg city/highway. The H3T and Toyota Tacoma with a V-6 engine get roughly the same power, but the Tacoma gets roughly 3 mpg better fuel economy. The H3, however, has more offroad chops. The H3T Alpha with a V-8 engine is estimated at 13/16 mpg. Who thought we'd ever be talking fuel-efficiency and Hummer, but here we are.
The H3T comes out this September, assuming Hummer dealers' doors are still open then.