Lafayette: Subaru's Green Movement Begins Here
By Eamonn Brennan
Cars.com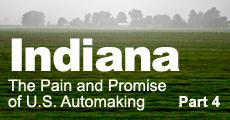 As gas prices soar, drivers are thinking green and car companies are struggling to adapt to a future of diesels, hybrids, fuel cells and beyond.
Not all companies are reacting the same way. Some are standing pat while others are slapping "hybrid" badges on anything that rolls. In the midst of all this transition, Subaru has done something different: It's turned its manufacturing green instead.
The Subaru plant in Lafayette, Ind., is the first zero-landfill auto manufacturing plant in the United States. It generates absolutely no waste from the Legacy, Outback, Tribeca and Toyota Camry models it builds there. No waste. No trash. Nothing. Everything is reused or recycled.

Denise Coogan, Subaru of Indiana Automotive's manager of safety and environmental compliance, led the transition to zero-landfill in 2005. A self-described "closet tree-hugger" and "environmental nerd," she spoke passionately about the environment and Subaru's place in it.

"We have to do something," Coogan said. "We're literally tearing the Earth apart."
Photos Gallery: Subaru Plant in Nature
That decidedly atypical auto-industry attitude seems to permeate the plant. Both Coogan and Becky Bright, Subaru's environmental group leader, praised the support they receive from plant management. Even the factory's environment – pictured so serenely in the company's advertising campaign – looks more like a wildlife reserve than a post-industrial auto park. (Turns out, the plant is a National Wildlife Federation Backyard Wildlife Habitat.)

Lafayette Sierra Club member Joe Sullivan said Subaru's practices have won over local environmentalists as well as the community.

"There was some resentment about foreign manufacturing when they first came in, especially among my generation," said Sullivan, 71, who has lived in Lafayette for more than 35 years. "But when you look at their recycling efforts and their employment record, it's impossible to justify any grievances."

Sullivan cited Purdue University's coal-powered power plant and Eli Lilly's incinerator as two local outfits that have drawn the ire of local environmentalists in the past.

The Subaru plant isn't entirely altruistic. The automaker saves money using environmentally friendly practices, primarily thanks to the plant's reduced waste output. (Fewer pounds of waste mean fewer pounds to pay to take to the landfill.) Even costly investments like the plant's unique on-site solvent recovery system are expected to pay off in the long run. Avoiding costly adaptation to future regulations helps, too. .

The most obvious benefit for Subaru is the image boost. As an automaker, Subaru plays to the outdoorsy, weekend-athlete buyer. Even to people who are so environmentally minded that they'd scoff at owning anything that burns more gas than its competitors, the zero-landfill plant allows Subaru to boost its credibility without having to re-engineer its cars' fuel efficiency. Subaru lags behind all three major U.S. automakers in gas mileage, and it's ninth among import brands.
How They Do It
Zero-landfill is exactly what you think it is: Everything in the facility, from coffee cans to oily rags, is recycled or reused. Solvents are stripped, cleaned and sold to manufacturing plants in need of polymers for machinery. Cafeteria trash is burned and converted to steam power for Indianapolis. When machinists toss something away, they lob it into one of the recycling bins dotting the Subaru plant's floors.
Photo Gallery: Recycling

The notion of a 3.8-million-square-foot auto plant contributing nothing to the local landfill conjures images of magical waste-disappearing acts. Where does all that stuff go?

Turns out, the plant's recycling process isn't exactly groundbreaking. Like the average recycler, the plant sorts its various materials — steel, cardboard, wood, plastic, paper — and scatters it among various recycling plants in the area. Wood planks used for transporting auto parts are returned to their original plant and re-used. Plastics are melted by a local recycling firm and sculpted into toothbrush handles, flower pots, plastic shopping bags — even plastic decking.

Some of the processes are more labor-intensive. When manufacturing Toyota Camrys, for example, workers on the floor must push out tiny inch-long metal cylinders, or rivets, as part of the process. At most plants, those rivets are simply left on the ground to be swept up. At SIA, employees vacuum them up, helping the plant sort out more metal to take to the recycler and keeping slippery items off the floor.

The road to the plant's Reduce, Reuse and Recycle program began in earnest in 2002, Coogan said. Faced with an edict from parent company Fuji Heavy Industry and the North American Environmental Alliance to become zero-landfill by 2006, Coogan and Bright had to clean things up, and fast.

SIA sought ways to reduce the sheer output of the plant; since 2000 the facility's waste has been reduced from 459 pounds per car to 251 pounds. In the meantime, it has established a partnership with Alliant Global Services and discovered ways to reuse everything. By 2004, it was official: The plant was zero-landfill.

Anyone Else?
If Subaru's approach is so simple, why aren't more plants doing it? Why aren't American auto manufacturers adjusting to life without landfills?

There are three things that motivate industries to change their production methods: policy, litigation and demonstration, said Jesse Kharbanda, executive director of the Hoosier Environmental Council. Now that Subaru's demonstrating a way forward, will more plants follow suit?

"A lot of plants tinker around the edges," he said. "They experiment. They try to be good environmental stewards, but they're more reactive."

Photo Gallery: Inside the Factory
Kharbanda said the culture at U.S. auto assembly plants — a culture that dates back to Henry Ford's first assembly line — is difficult to change. With an economic downturn looming, manufacturers likely will see little reason to revolutionize their plants' waste-management policies.

Still, Subaru seems happy to share its progress, and other plants — even other industries — are taking notice. SIA has given tours and seminars to other manufacturers, from Boeing to Campbell Soup Co. to Procter & Gamble, all of which are interested in streamlined environmental processes.

"There's this big green boom now," Coogan said. "Once people see how simple it is, that you do save money in the long run, the enlightened ones get it. You can't have a sustainable business in an unsustainable environment."
Indiana: The Pain and Promise of U.S. Automaking Part 1
Indiana: The Pain and Promise of U.S. Automaking Part 2
Indiana: The Pain and Promise of U.S. Automaking Part 3