Foreign Automakers Set Up Shop in the Heartland
By Patrick Olsen and Eamonn Brennan
Cars.com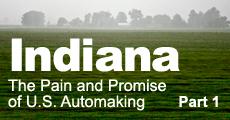 In the past 19 years, foreign automakers with no less a profile than Toyota, Honda and Subaru have set up shop in middle America. Why do foreign automakers find Indiana so appealing? How have they managed to build plants in the Rust Belt, which used to be very union-friendly territory? And where have the Big Three — headquartered just over the border in Michigan — gone?
The Foreign Appeal
For years, foreign automakers have built plants in the southeastern U.S., far from UAW strongholds, where labor is cheaper. Meanwhile, Toyota, Subaru and — soon — Honda have landed in the Heartland, not far from the historical center of U.S. automaking in Detroit.
Why Indiana? As any real estate agent would tell you: Location, location, location. Indiana isn't known as the Crossroads of America for nothing; it's a natural for these automakers.
"There are more interstates running through Indiana than any other state," said Tom Easterday, a senior vice president at Subaru, which began production at its plant in Lafayette in 1989. "It was also close to a supplier base, including suppliers that build for GM, Ford, Chrysler, Toyota … and that close transport access was big."
Of course, location isn't the only factor.
"Indiana had a very available, skilled work force [and] a heavy concentration of manufacturing," Easterday said, and "actually [has] the highest concentration of manufacturing jobs percentage-wise in the country."
In addition, other auto industry execs say, Indiana offers lower utility costs, wide open spaces (great for building a huge automotive assembly plant) and enough tax incentives to make it worth their while. Local officials had long been searching for new jobs to replace those lost when the Rust Belt went bust.
According to Mike Goss, a Toyota spokesman, the company was "looking for support from the state and the community to help us grow in the community and provide those good-paying jobs.
"Many states provide training jobs," Goss said, and "local municipalities often provide tax abatements that help us early on."
Finally, of course, local officials point to the quality of Midwestern workers.
"I think that [what] foreign automakers see when they look at the Midwest is an employee, a team worker, that is a very hard-working individual." said Todd Mosby, executive director of the Gibson County Economic Development Corporation. Toyota's Princeton plant is in Gibson County and opened in 1998. "People in the Midwest are very loyal, and they go about their work as if it is as important to them as anything else in their lives."
Where Are the Big Three?
Of course, given their shaky financial status and this year's abysmal car market, the Big Three are thinking more about closing existing plants than building new plants anywhere in the U.S. Even in the 1990s, when domestic automakers were by and large prospering from the success of big SUVs — which came with good-sized profit margins — the Big Three began looking just over the borders to build new plants: Chrysler began building half of its popular minivans in Canada, and Ford took some of its trucks and GM its iconic Suburban to Mexico.
The recent downturn in car sales has meant that even those foreign plants have had to adjust: Ford recently announced it would stop building F-150 pickups in Mexico in favor of the upcoming, smaller Fiesta, and GM has said it plans to close four SUV and truck plants, including one each in Canada and Mexico. Chrysler slashed a number of cars entirely, including the distinctive-looking PT Cruiser, which was built in Mexico.
At the crux of the matter are two issues for U.S. automakers:
Smaller, more fuel-efficient cars typically cost less than big SUVs, and therefore have smaller profit margins. That means building these small cars in the U.S. can be problematic given the higher labor costs that the Big Three pay.
The Big Three have much larger "legacy expenses" than their foreign competitors do. Every new car they produce has an extra cost to it, made up of pensions and medical insurance for their retirees. That cost ranges from hundreds to thousands of dollars for every car produced.
The Union Question
Indiana has a long, proud history with the auto industry. Ever since the Studebakers set up their wagon shop in South Bend in the mid-1800s, the state has had ties to the hand-in-hand steel and automotive industries. The union movement gained significant ground in the Crossroads state with a UAW strike in the 1930s. The strike, at a lamp factory, helped it gain recognition as a bargaining unit by General Motors.
Both the steel and auto industries chugged along throughout the 20th century, but the gas crisis of the early 1970s and, later, the recession from 1979-81 hit both industries hard, with steel taking the biggest hit. The gas crisis also, of course, opened the door for Japanese automakers, which were already producing smaller, more fuel-efficient cars.
In the 1980s and '90s, Indiana saw a bit of an auto rebirth, when first Toyota and then Subaru built new plants there. As recently as 2000, more than 670,000 state residents worked for the auto industry and related suppliers and vendors. Since then, however, more than 130,000 automotive-related jobs have been lost, according to the Indianapolis Star.
Interestingly, even with the state's long history of unionizing, both the Toyota and the Subaru plants remain largely union-free.
Officials with all three foreign automakers who've chosen to build in Indiana offer up the same rationale for why their plants are not unionized: The workers have not seen fit to organize.
"Our stance on that: It's up to our employees if they want to organize a union," Toyota's Goss said. "All we can do is provide them with good jobs, with benefits, which we do. The rest is up to them."
Subaru's Easterday agrees.
"Certainly the UAW at various times has indicated that they would like to unionize one of the Japanese automakers in the U.S., but we leave that up to our work force, and our work force has never indicated that they want it," he said. "As long as you've got a safe work environment and everyone is treated well, [bringing in a union is] going to be less of an issue."
It's not that the UAW hasn't tried to organize workers at foreign assembly plants in the U.S.; it's that it has repeatedly failed to interest them in becoming part of the brotherhood.
"Workers simply have been unreceptive to the UAW," said Joe Phillippi, a principal with automotive research and consulting firm AutoTrends. "There was a vote at Smyrna (Tenn.) recently and the result was 70-30, with 70 percent of the workers opposed to the union."
In the 1980s, domestic automakers chided the Japanese for selling here but not building here, and called for a level playing field. The Japanese responded by building in the U.S. but with lower costs, using non-union plants to keep the cost per unit-produced below the cost for domestic-made cars.
"When the Japanese interview workers here for jobs, it's not that they screen potential hires for their anti-union feelings," Phillippi said. "But they do screen them for their pro-teamwork attitudes. When they needed 1,000 to 2,000 workers, they had 10,000 to 20,000 people coming in for interviews. They had the pick of the litter from those who, while not anti-union, were at least not readily receptive to a union."
For the most part, the states where they chose to locate their plants were right-to-work states "where organizing a union would be difficult to do," Phillippi said.
Phillippi said workers at foreign-owned plants in the U.S. "make close to the same hourly salary as the UAW does, but the benefits are substantially less" in terms of medical and pension plans.
Still, workers haven't felt the need to organize, he said. Most plants are at full employment, and employees work in a convivial atmosphere where the focus is on teamwork.
"There is no acrimony at the plants," Phillippi said. "There's no, 'Shut up or you're fired.'"
Perhaps most important is the background of those who work at the plants.
"They come from farms and don't have any bad habits or bad attitudes from having assembled autos before, so there's not a lot of noise to organize," he said.

Jim Mateja contributed to this report.