VW Says Jetta TDI Will Get $1,300 Tax Credit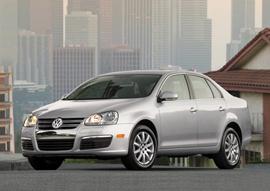 The new 2009 Volkswagen Jetta TDI and Jetta SportWagen TDI will come with a $1,300 tax credit, according to a press release by dealer association Volkswagen of America. No, the Jetta TDI isn't a hybrid, but it does have a clean diesel engine, which makes it eligible for an Advanced Lean Burn Technology Motor Vehicle income tax credit.
The Jetta TDI meets the requirements for diesel engines in all 50 states (including notoriously clean California), and the healthy tax credit should help Volkswagen sell the car to a still diesel-averse American public.
There is still a quibble to be worked out over what kind of mileage the TDI gets in real-world driving. After the EPA rated the car at 29/40 mpg city/highway, Volkswagen released a statement saying a third-party certifier had found that under real-world conditions the TDI performed 24% better than that, with ratings of 38/44 mpg city/highway.
As soon as we get our hands on one, we'll be sure to let you know. In the meantime, does a $1,300 tax credit make you more inclined to consider a clean-diesel Jetta as your next car? Check out full pricing of the 2009s here. The TDIs cost roughly $4,000-$5,000 more than base models but are similarly equipped to higher priced trim models. You can compare the 2009 Jettas here.