Weekend Athlete: Decathlon Quiz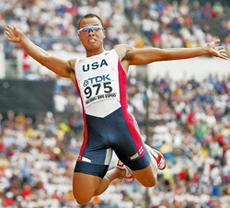 A reader once asked me if I considered anyone who owns a bike a Weekend Athlete. Answer: No, but it helps. So in the spirit of the U.S. Olympic team trials that recently wrapped up, I present you "Am I a Weekend Athlete? The Decathlon Quiz." Please, answer honestly.
1) When you test drive a hatchback, you:
a) Bring a tape measure and dimensions of your bike, camping gear, fishing pole, etc. to see if they will fit inside (10 points, and good for you -- you'll never be surprised when you bring a car home)
b) Ask if the car also comes in sedan form (0 points)
c) Bring your bike to the dealer (10 points, but only if you respond politely when the dealer says he doesn't want you loading your bike into his shiny, clean new car)
2) You see the Audi R8 and think:
a) Oooh, I gotta have that for my high school reunion (0 points)
b) Oooh, I gotta have that to drive on the Nürburgring (2 points)
c) Nice, but it won't hold my bike or take me skiing (10 points)
3) You find station wagons:
a) Nice because you think they look cool and are practical (10 points)
b) Nice, but you're only driving one because you can't afford a big SUV right now (9 points)
c) Terrible because they remind you of "The Brady Bunch" (0 points)
4) True or false: You've at least once suggested that a significant other walk or wait for you to come back and pick him/her up on a rainy day so your toys don't have to ride outside in the rain.
a) True (0 points, and man are you lucky to have a significant other)
b) False, you let your toys get wet (5 points; you're a good man/woman. Pat yourself on the back and go clean your wet toys)
c) False, but you keep your toys dry (10 points, you did your homework and know that your loved ones can ride in the car with you and the toys)
5) When you test drive a car, you examine the rear seats to see:
a) If they're comfy (2 points)
b) If they would fold down quickly during a rainstorm (10 points)
6) You always check out the rear of a SUV/hatchback:
a) To see if it has quad exhaust (0 points)
b) To see how high the load floor is, whether it has a rear hatch or a swing-out door and whether you'd hit your head on the roof or hatch when it's open (10 points)
7) Given the choice of a high-price option system that includes heated seats, you:
a) Bite the bullet and decide the kids don't need braces so you can be warm and toasty on the way to the ski race (1 point; sorry, kids, but it does get cold on the way to the Birkie sometimes)
b) Pass on the package in favor of dressing warmer and being good to the significant others in your life (10 points, but you can grumble about it a little bit)
8) When you look at a car's interior, you see if it can be ordered with stain-resistant, odor-resistant seats because:
a) You're a sloppy in-car eater who favors food of the fried, gooey variety (0 points)
b) You sweat and you're OK with that (10 points)
c) You don't care; you plan to buy seat covers and clean them regularly (5 points)
9) You figure a flat-screen TV:
a) Is something you're going to have to move in your car more than three times in the TV's lifetime (0 points; settle down -- put down some roots and stay awhile, man!)
b) Will likely fit in a car that can carry a bike with both wheels on, but may have to be secured more tightly. (10 points)
10) You're reading this:
a) On a laptop while you wait for a bike race or triathlon to start (10 points)
b) Before heading out for a camping trip (10 points)
c) At work, still trying to deal with the mountain of work left over from the Fourth of July weekend (10 points; it's OK, but don't complain about having a holiday too loudly or the bosses will take them away)
Final tally
40 points or fewer: You're not a Weekend Athlete per se, but there's hope.
41-70 points: A healthy balance of Weekend Athlete endeavors and real-world relevance. The best score, really.
71-100 points: Um, yeah … well, I wouldn't call it healthy, but hopefully the Weekend Athlete column will help you with your car shopping.