2009 Hyundai Genesis Earns Five-Star NHTSA Crash Test Scores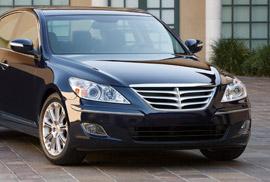 We've had nothing but praise for the 2009 Hyundai Genesis since we test-drove it; it's a car that easily keeps up with the Mercedes-Benz E-Class and BMW 5 Series, but at a discount price. Now, the National Highway Traffic Safety Administration has also given it a seal of approval, awarding this stately beast five-star crash-test ratings all around.
The Genesis received five stars in both frontal and side-impact crash tests — something the BMW and Mercedes could not achieve.
"These five-star results are just one indication of the dedication Hyundai engineers place on safety," said John Krafcik, vice president of Strategic Planning and Product Development at Hyundai Motor America.
Krafcik is referring to the Genesis' standard rigid body structure, eight airbags and active head restraints. Included in the eight-airbag count are rear side-impact airbags, which are rare for a mid-$30K vehicle.
While our preferred testing agency is the Insurance Institute for Highway Safety, NHTSA's five-star ratings are another helpful selling point to a car that's already got a lot going for it.