Car Art: Infectious or Tacky?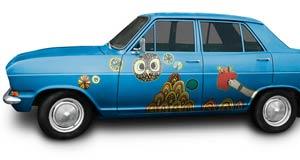 Infectious Art offers decals for your car that can have the glibness of a bumper sticker or the sprawl of a mural, depending on your taste.
The company says it works with artists from around the world to create these "moving works of art." While the concept of decorating your car's exterior may not be new, Infectious Art's method is. You choose your art online and install the piece yourself.
Infectious claims the art will last for up to two years and can endure the blazing hot summers of the Southwest and the frigid winters of New England. It can even withstand numerous car washes, but if you get bored with it, a hair dryer can easily remove the specialized vinyl material.
Let us know what you think. Would you deck out your car with Infectious art?