Ch-Ch-Changes: 2009 Audi A6, A6 Avant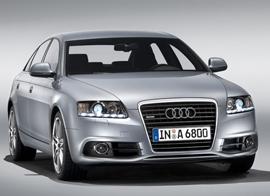 A redesigned 2009 Audi A6 will go on sale in January 2009 with updates to its front and rear styling as well as a supercharged V-6 that's new to the Audi lineup.
Coming down the road you'll notice the new LEDs rung around the bottom of the headlights, much like on the A6's smaller, redesigned A4 sibling and Audi's R8 supercar. The 2009 A6 also shows off narrower taillights and streamlined front bumper and grille designs; a rear lower bumper is also more sporty looking. More info and photos below.
Four engines will be offered in the A6's U.S. lineup, including two six-cylinders (255 hp and 300 hp), a 350-hp V-8 and a 435-hp V-10 in the 2009 S6 sedan. The new supercharged engine is the higher V-6 offering; it displaces 3.0 liters, making 300 hp and 310 pounds-feet of torque. This engine will be the sole offering in the A6 Avant wagon, where it will be mated with all-wheel drive and a six-speed automatic transmission.
While the U.S. spec sheet says zero to 60 mph times are TBA for the new V-6, to give you a rough idea of its acceleration, European specs show a supercharged A6 is capable of zero to 62 mph times of 5.9 seconds.
On the inside, a blind spot monitoring system has been added, dubbed Audi Side Assist. Like other systems, it uses radar to detect when a car is in your blind spot and warns you with an illuminated light on the side-view mirror.
Audi's A6 competes with the Mercedes-Benz E-Class and BMW 5 Series. Audi says pricing is expected to be similar to the outgoing A6, which starts at $42,950 for a front-wheel-drive 3.2 model and tops out at $72,350 for the 435-hp S6.