Drumroll Please: Pontiac Names G8 Sport Truck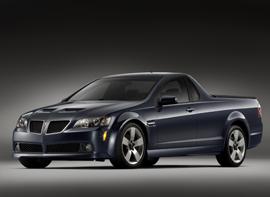 At least they didn't call it El Camino Junior.
After months of excitement that a new car/truck was coming from Pontiac in the form of a Chevy El Camino-type machine — and a flurry of speculation that the car/truck might even revive the El Camino name — Pontiac has picked a moniker: G8 ST.
G8 refers to the fact that the sport truck is based on the G8 car's platform, while ST indicates that it's a sport truck.
G8 ST won out over names from Pontiac's past, such as Ventura and LeMans. Some names from the past, however, such as GTO and Firebird, weren't submitted.
"There were some variations using the word 'fire,' but none with 'bird,'" Pontiac spokesman Jim Hopson said.
"What about Aztek?"
"Not a lot of votes," Hopson laughed.
It also won out over some Native American names, like Apache and Comanche, that were popular submissions.
And, of course, it won out over names previously taken, like Diablo.
Many, however, expected more.
"Since they had a national contest to name the truck, I thought they'd come up with something really catchy," Auto Trends analyst Joe Phillippi said. "But to some extent, I'd have to say there doesn't seem to be too much originality behind the name."
Eric Merkle, an analyst with Crowe Chizek and Company, echoed that sentiment.
"G8 ST is straightforward, though not very imaginative," Merkle said. "It's a little surprising since bloggers at the New York auto show handed out campaign buttons to vote for 'El Camino.' But that's a name better left for Chevrolet, while G8 ST is in keeping with Pontiac's switch to alpha numeric designations like G5, G6 and G8."
Pontiac says it sifted through more than 18,000 names submitted by nearly 90,000 people in its Tame the Name contest over the past several months.
"Frankly, we were blown away by both the volume and quality of the names submitted," said Craig Bierley, Buick-Pontiac-GMC product marketing director for cars and crossovers. Bierley said G8 ST was "one of the most popular suggestions," and that it was in keeping with a trend toward "simple, easy-to-remember names."
"They could have kept it simple by calling it BBT for Big Boy Toy," Phillippi said, though he said he understands why G8 ST was chosen. "G8 refers to being a member of the car family; ST avoids using the term 'truck' that today has negative connotations."
"El Camino" was a sentimental favorite for the return of a car/truck, and was one of the more popular names submitted.
"We actually thought very long about El Camino," Bierley said. "In the end, we felt it was more appropriate to honor the El Camino's unique place as part of Chevy's heritage and not use that nameplate on a Pontiac."
The G8 ST will go on sale late in 2009 as a 2010 model, powered by a 361-hp, 6.0-liter V-8 with active fuel management that shuts off four cylinders when they're not needed.
Related
Why the Sport Truck is Back (KickingTires)