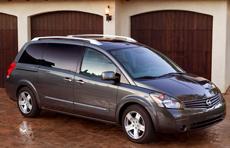 It's that time of year again: Manufacturers need to make room on dealer lots for new 2009 models, so the 2008s have to hit the road, and that means more incentives. We'll be highlighting deals from a number of manufacturers, along with notes on which models will change substantially for 2009.
Like many manufacturers, Nissan is offering huge cash-back offers on its trucks and SUVs — the Armada and Titan, specifically — but is also offering a good variety of cash-back deals on other 2008 models. A full list of 2008 Nissan deals from our incentives page is below:
2008 Altima: $1,000
2008 Armada: $5,000
2008 Frontier: $2,500
2008 Maxima: $2,500
2008 Pathfinder: $2,500
2008 Quest: $3,500
2008 Sentra: $1,000
2008 Titan: $5,000
2008 Xterra: $3,000
2008 Versa: $800
Those offers are available across a variety of regions we tested, but as always, be sure to use your own zip code to make sure offers apply in your region.The deals are good through Sept. 2.
The Maxima is all-new for 2009, and you can read our coverage of it here. The Frontier and Xterra receive some upgrades, but they aren't as significant. Check out the changes here.