2009 Pontiac G3: Just Another Aveo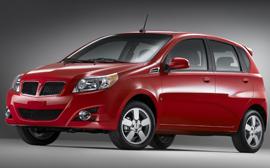 Pontiac is going to add a version of the four-door Chevy Aveo hatchback to its lineup next spring, to be called the G3. Pontiac already markets a G3 Wave in Canada and now will offer it as simply the G3 in the U.S.
"The G3 gives us a credible new high-mileage entry-level car at a time when small cars are the fastest-growing segment in the industry," Pontiac spokesman Jim Hopson said.
Sure, but isn't Pontiac supposed to be the high-performance excitement division at General Motors?
"More than ever, fuel economy is an important factor in Pontiac's formula of style and performance," Susan Docherty, vice president of the Buick-Pontiac-GMC group, said, noting that the G3 gives Pontiac four models that obtain more than 30 mpg in highway driving: the G3, G5, Vibe and G6.
"We still have G8 and Solstice rear-drive performance sports cars, as well as the front-drive G5 and Vibe that are sporty and get good mileage, and now we'll have the G3 that's sporty and gets very good mileage and is very fuel-efficient at the entry-level car range," Hopson said.
Joe Phillippi, an auto analyst and principal of automotive consulting firm AutoTrends, said what Pontiac is doing is a necessary part of the business today.
"This smacks of Pontiac backsliding from performance to economy cars, but I understand what they're doing and why they're doing it," he said. "Everyone has to fight the battle with stricter CAFE [corporate average fuel economy] regulations coming. In order to sell the G8 and Solstice sports cars [you] have to sell some high-mileage economy cars alongside them to help meet the CAFE average."
That's why Chevy needs to sell lots of Aveos to be able to keep selling Corvettes.
Stricter CAFE regulations take effect in 2020 and call for each automaker to obtain an average of 35 mpg from its fleet of cars, up from the required 27.5 mpg today.
"That's a tall order," Phillippi said. "That's why Chevy is working on the Volt (plug-in hybrid) and why Pontiac is adding a G3."
The G3, which will debut as a 2009 model, also gives dealers who went along with GM's game plan and consolidated Buick, Pontiac and GMC under one roof something they needed.
"Dealers have complained that to compete with Chevy, as well as Toyota and Honda, they needed a high-mileage entry-level car because Buick doesn't have one, and the G3 gives them one," Phillippi said.