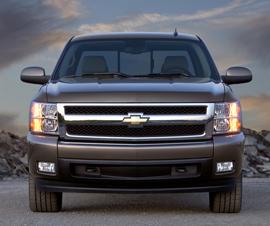 It seems that dangling a nearly $10,000 discount on a truck — along with sub-$4 gas prices — will help it sell. That was the case with Chevy's Silverado pickup in August, as GM's employee pricing offer kicked its sales into overdrive and put it atop the list of the nation's best-selling cars and trucks.
The Silverado sold only 32,989 units in July, but the added discounts bumped the total to 55,765 in August, which is still less than August 2007's total of 67,486.
Other trucks were also heavily discounted and saw sales increases, but practical cars still make up the majority of August's top 10 list. Check out the full list below.
August Top Sellers
Chevy Silverado: 55,765
Toyota Camry: 44,064
Honda Accord: 43,613
Ford F-Series: 40,429
Chevy Impala: 30,271
Honda Civic: 30,052
Toyota Corolla: 29,443
Nissan Altima: 25,298
Dodge Ram: 24,974
GMC Sierra: 20,297
Runners-Up
Honda CR-V: 19,866
Toyota Tundra: 17,401
Ford Focus: 16,387
Chevy Malibu: 15,718
Honda Odyssey: 15,546