Corvette Production Takes a Break as Sales Sag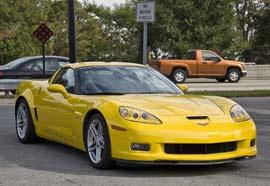 General Motors will give production of the Chevrolet Corvette a rest the week of Oct. 6. When its Bowling Green, Kentucky, assembly plant returns to work after the break, it will have 75 fewer workers and turn out 3.5 fewer cars per hour.
Last month we reported on some fairly excellent deals for brand-new Corvettes, as GM sought to boost its sales figures by including the car in its employee pricing deal, which continues through Sept. 30. A Corvette Z06 has almost $10,000 off the sticker price, but in this dismal automotive environment that reduction isn't about to turn things around.
Though sales jumped with the discount, they remain well off last year's mark — down 8.5% through August. Unsold vehicles crowd dealer lots, leading to production cuts. Still, GM's pain can be your gain: Check out pricing here; there's never been a better time to shop for a Corvette.
Chevy to Temporarily Halt Vette Production Due to Economy (Autoblog)