GM Building New Four-Cylinder Engine, Factory Too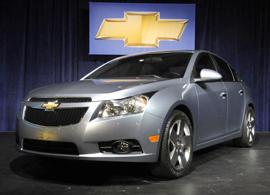 This morning, GM announced it will double its four-cylinder engine production globally, with a majority of that increase coming to North America. This product-planning shift was expected, as was the $370 million engine plant GM is going to build in Flint, Mich., to produce its new 1.4-liter four-cylinder engine. That engine will power GM's upcoming Cruze compact sedan and also serves as the gasoline range extender for the Chevy Volt plug-in hybrid.

The engine in the Cruze will be turbocharged to maximize efficiency. Turbochargers are often used to boost performance. The Cruze's specs are projected to be 140 hp and 148 pounds-feet of torque, which is roughly equivalent to a Toyota Corolla or Honda Civic. GM says the Cruze will likely be a fuel leader in its segment — the 2009 Corolla and Civic get 27/35 mpg and 25/36 mpg city/highway, respectively, with their base engines and automatic transmissions. GM isn't claiming the Cruze will definitely top the segment because a lot can happen in two years.

The catch, of course, is that the factory isn't built yet. That's why Europe will get the Cruze in 2009 — it'll use a diesel engine there — and the U.S. will have to wait until 2010.

In 2011, GM will put the new turbo engine into two other yet-to-be-announced U.S. models. Possibilities include the recently revealed Chevy Orlando compact crossover, which is built on the Cruze platform, or the next-generation Saturn Astra hatchback.