Most Riveting Car Chase of 2008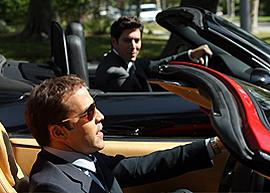 I'll readily admit I don't go to a lot of movies these days, but I do watch a ton of TV and have a subscription to Netflix. I also have a healthy love for car chases, the best of which is the one in "The French Connection" ("Bullitt" fans can chime in below).
So, last night, color me completely surprised when I witnessed one of the scariest, most real-life car chases I've seen in some time during … "Entourage"? Yes, Ari Gold (played by Jeremy Piven, who claimed an Emmy last night for the character) got a new Ferrari F430 Spider for an anniversary present — he married up — and seconds later got in a street race with a competing Hollywood agent in a Porsche.
Aside from the fact that the F430 would easily school the Porsche, the street race was entirely too real, with lots of L.A. traffic on a four-lane road. The filming was well-done, and because they were both in convertibles the camera could look down into the cars allowing more shots of the actors.
The authenticity of the chase — two egomaniacs behind the wheels of expensive cars they can't really drive — plus the reality aspect of the traffic — really sold it for me. What's next? A midnight car chase during next week's "True Blood?"