Now: Porsche Panamara Teaser; Real Thing Months Away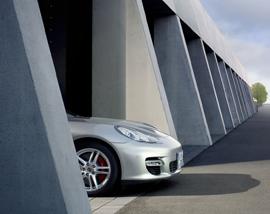 We're used to getting teaser photos from manufacturers trying to generate hype for a new model. We ran such shots of the 2010 Mustang last week, for example. They showed small parts of the car, but nothing that would give away its overall look.
This morning comes Porsche's attempt at such a tease. The Panamara Gran Turismo is the first four-door Porsche sedan ever produced, and it will go on sale in the fall of 2009. It won't even be fully unveiled until next spring, we'd guess at the New York auto show or beforehand, online.
The image shows the front end of the car, but it's the car's full profile that is the most distinguished part of the Panamera GT. The front end is much more reminiscent of Porsche's current lineup, which is deliberately present in the photo. A larger version is below.
Porsche has also launched a microsite on the web for potential owners to sign up and get updates.