Nuts and Bolts of the 2009 Chevy Traverse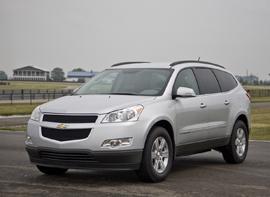 It's been nearly two years since the first of GM's full-size crossovers, the Saturn Outlook, hit dealerships. Now comes the fourth model, Chevrolet's 2009 Traverse. A new look isn't the only thing the intervening years have produced; at a media event last week in suburban Chicago, vehicle line director Sue Wilson walked us through some of the Traverse's subtler changes.
Feedback from focus groups, J.D. Power reports and owners of GM's other crossovers resulted in a number of updates on the Traverse, Wilson said. Among them are overhead hanger hooks in the second and third rows, versus just the third row in the other models; an optional stand-alone backup camera that goes in the rearview mirror; and two-piece side mirrors that show more of the Traverse's blind spot.
These are "little things" that GM learned along the way, Wilson said. Faced with climbing all the way to the third row, owners weren't using the hooks to hang their dry cleaning; instead, they simply hung their clothes on the headrest.
"Sometimes [the focus groups] will validate something," Wilson said. "You're always making decisions on what you can do. The more data you have coming in, the better."
You don't need reams of data to know a major factor in any car-buying decision is gas mileage. The Traverse gets mileage that's in the ballpark with its V-6 competitors, but remains some 10% to 15% below the four-cylinder Dodge Journey and forthcoming four-cylinder Toyota Highlander.
So we asked Wilson: Here and elsewhere, why not radically downsize engines in the name of efficiency? Would consumers accept the acceleration standards of a decade or two ago for resulting mileage gains?
She thinks not.
"I know if I had a vehicle that did zero to 60 mph in 10 seconds, I'd get cards and letters," she said. "If a consumer feels like the vehicle doesn't have enough get-up-and-go, there will be some concern.
"We're back to what kind of tradeoffs you want to make. [Consumers] want it all."