Brazil's Sexy Chevy GPiX Concept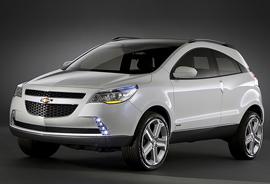 We don't usually cover production cars on sale only in other countries, let alone concept cars. But the new GPiX concept from GM's Brazil-based design center got our attention. The two-door crossover features a lot of design cues we've seen from the Chevy Malibu and upcoming Cruze.
The two-door SUV body style is really unique, and it could fit a certain niche in the U.S. … if the price were right. Because it's aimed at the South American market, chances are good that a production version would have a low cost, and GM says it would include standard features like a stereo, air conditioning and power windows.
What would hold it back from hitting the States? It probably won't have the array of safety features required here, including standard stability control. It would also most likely pack a diesel engine. However, the new turbo four-cylinder going into the Cruze would probably fit perfectly under the hood.
We see this as an interesting alternative to the slow-selling Saturn Astra hatchback. If GM could keep the price along the line of the Astra's ($17,000-$20,000), it could definitely sell in the U.S. Let us know your thoughts and check out more photos below.