Bumpy Future for GM's Full-Size SUVs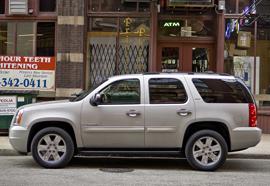 Despite diminishing sales and favorability in the public's eyes, General Motors was still committed to developing a future platform, or underpinning, for its full-size SUVs at a cost of nearly a billion dollars. But according to The New York Times, GM has now abandoned those efforts.
Code-named CXX, the platform would have underpinned vehicles like the Cadillac Escalade, Chevrolet Tahoe, Avalanche and Suburban, and GMC Yukon. CXX would have been lighter and more fuel efficient than the existing platform, named GMT900. The GMT900s, which are on sale now, were introduced in 2006.
The article goes on to state that while the large-SUV market is contracting, many people still want or need full-size SUVs, and GM still wants to sell them to those customers. As of April, GM's market share in the segment stood at 63%.
Our guess is that GM will stick with the old platform while updating or tweaking the powertrain, interior and exterior design. By doing that, the current models could easily continue to be sold for the next five years.
Before the SUV craze, trucks and SUVs went longer between redesigns; the Suburban once went without a major redesign for 18 model years. Keeping that in mind, a seven- to 10-year model cycle for these types of vehicles might become the norm once again.
General Motors, Driven to the Brink (New York Times)