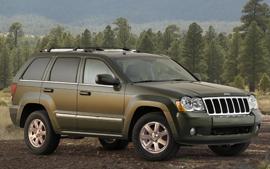 With so much cross pollination between the automotive industry and business world going on these days, we're seeing more folks involved in money markets talking about products than ever before. Conversely, we're talking about the business side of cars more than any consumer would want to read on normal occasions.

That brings us to a column posted a few weeks back by Rick Newman at U.S. News & World Report, titled "10 Cars Nobody Would Miss if They Vanished." The problem? Four of the vehicles mentioned have already been officially declared dead, and three others are either on their way out or are being completely redesigned.

So should it be called "Three Cars Nobody Would Miss if They Vanished?" In the proper spirit of things, here is our instantly whipped-up list of the top 10 cars that have no clear timetable for vanishing, but which we think wouldn't be missed. Of course we're expecting your ideas in the comments, too.

Jeep Grand Cherokee: It may be a sentimental favorite, but in a dying segment it's far behind the Ford Edge and Nissan Murano.
Saab 9-5: You could include all Saabs here, but the 9-3 at least has respectable wagon and convertible versions.
Saturn Astra: It has sold abysmally since coming on the scene earlier this year, mainly because it's more expensive and heavier than the competition. Plus, all the buttons are weird due to its European roots.
Mercedes-Benz CLS-Class: It's one of the best-looking sedans out there, but it's expensive — even for a Mercedes — and it isn't selling.
Mitsubishi Eclipse: Another car we like, but would anyone miss it?
Hyundai Veracruz: In a crowded three-row crossover pack, it's too expensive and doesn't outdo the rest by any considerable measure.
Lexus GX 470: They're still making this?
Subaru Tribeca: We're seriously stuck with this instead of a Subaru minivan? Bah.
Chevrolet Traverse: It just came out, but we've tested it and it's so similar to the other GM three-row crossovers that its unsightly looks would keep us shopping for a GMC Acadia or Saturn Outlook.
Toyota Land Cruiser: At nearly $65,000, why not just spend another $9,000 for a Lexus LX 570 that's almost worth the cash?