IIHS: One-Third of Tested Booster Seats Not Recommended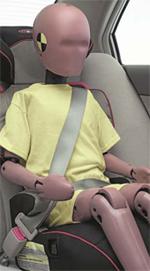 Parents with young tots know that as their children grow in size, so too should their child-safety seats. Booster seats are the last phase before kids can do without supplemental restraints, and not only are they a good idea, it's illegal to drive without them in 43 states and the District of Columbia. In recent Insurance Institute for Highway Safety tests of 41 different booster seats, though, many failed.
Of the 41 models tested, 13 are not recommended based on seat belt fit. It's important to note that these aren't crash-test results; booster seats do not provide crash protection. A good booster seat simply routes a seat belt across a child's bony parts, rather than soft parts — like the abdomen — that are more vulnerable to injury, according to IIHS.
Two types of booster seats were evaluated — backless boosters and high-back boosters — and they were tested in 31 different 2001-06 vehicles.
Overall, IIHS found backless boosters to generally provide better lap-belt fit, while high-back boosters generally did a better job at positioning shoulder belts. The IIHS ranking of Best Bet is given to boosters that do both well; a Good Bet provides merely adequate protection, and seats branded Not Recommended are deemed ineffective, leaving the lap belt partially or fully on the abdomen.
One other important find in this study is that three-in-one seats — meaning seats that can be reconfigured from a baby seat into a booster — were generally not well-received. Many three-in-one designs compromised the seat's ability to provide good belt fit as a booster seat. Also, a booster seat's cost didn't necessary translate into a high ranking; the Graco TurboBooster (a $20 model) is rated a Best Bet. Check out the video here.
Below is a full list of all the models and rank:
Not Recommended
Safety Angel Ride Ryte backless
Cosco/Dorel (Eddie Bauer) Summit
Graco CarGo Zephyr
Evenflo Big Kid Confidence
Cosco/Dorel Traveler
Compass B505
Compass B510
Evenflo Generations
Dorel/Safety 1st (Eddie Bauer) Prospect
Cosco Highback Booster
Cosco/Dorel Alpha Omega
Evenflo Chase Comfort Touch
Safety 1st/Dorel Intera

Good Bets
Graco TurboBooster
Safety Angel Ride Ryte
Recaro Young Sport
Combi Kobuk
Safety 1st/Dorel Apex 65

Best Bets
Graco TurboBooster backless with clip
Fisher-Price Safe Voyage backless with clip
Combi Kobuk backless with clip
Fisher-Price Safe Voyage
Britax Parkway
LaRoche Bros. Teddy Bear
Safeguard Go backless with clip
Volvo booster cushion
Recaro Young Style
Britax Monarch
Note: Unless the booster name indicates that it is a backless seat, all boosters are high-backs.