2008 L.A. Auto Show: 2010 Lincoln MKZ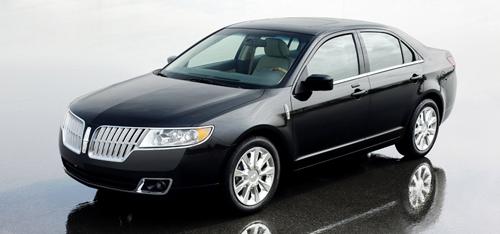 Competes with: Honda Accord, Saab 9-3, Acura TSX
Looks like: Lincoln will be adding the MKS grille to every product from here on out
Drivetrain: 263-hp, 3.5-liter V-6 with six-speed automatic
Hits dealerships: Spring 2009
Ford's trio of midsize sedans is topped by the Lincoln model, the MKZ. The previous MKZ didn't do much to distinguish itself from its less-expensive Ford and Mercury siblings, but the 2010 edition looks to add more luxury touches inside to help set itself apart.
The dashboard is definitely different, with the LCD navigation screen mounted high on the dash, unlike its low position in the Fusion and Milan. This is the same exceptional unit found in the larger Lincoln MKS. Also borrowed from the MKS are the upgraded leather seats. Lincoln says that leather is the same covering that's found in the MKS, which we found exceptionally comfortable.
Under the hood, the MKZ comes only with the top-of-the-line engine from the Fusion lineup, the 263-hp, 3.5-liter V-6. Lincoln says it shaves .6 seconds off its 0-60 time, down to 7.1 seconds, which is about as fast as the competition. The six-speed automatic transmission features a manual-shift feature as well.
The MKZ will also feature all-wheel drive as an option.
There will be two trim levels, the base MKZ and a sport model with a more aggressive suspension, stiffer shocks and 18-inch wheels.
Whichever model people go with, we're sure of two things: They better like that grille, and if they don't, a lot rides on the interior winning them over.