2008 L.A. Auto Show: 2010 Ford Fusion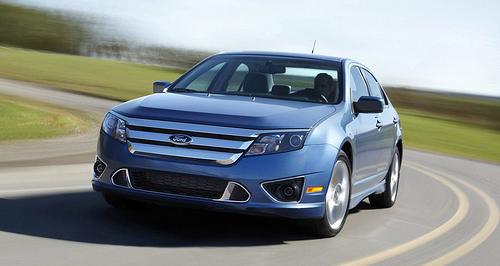 Competes with: Chevy Malibu, Nissan Altima, Toyota Camry
Looks like: Ford brought a little European design to its popular midsize sedan
Drivetrain: 175-hp, 2.5-liter four-cylinder with six-speed manual or automatic; 240-hp, 3.0-liter V-6 or 263-hp, 3.5-liter V-6 with six-speed automatic
Hits dealerships: Spring 2009
Ford used the previous Fusion to usher in its new three-bar grille, which has been a huge hit with buyers. The all-new Fusion has an even bolder chrome grille, as if announcing to the world, "Yes, bigger is better." The "better" part comes in the slew of improvements Ford has made to its new midsize sedan, from more powerful and efficient engines to a quieter cabin.
Besides the new design, the features that will get people most excited are under the hood. With a lineup of three engines — not including the Fusion Hybrid, which we'll detail separately — that are not only more powerful than the outgoing model but also get better mileage than the competition, shoppers will have two big reasons to check out the new Fusion.
The base four-cylinder is now 2.5 liters; it's also used in the 2009 Ford Escape SUV. Here it produces 175 hp, and Ford says it will get 2 more mpg than the four-cylinder Toyota Camry, which gets 32 mpg. We'll see if Ford updates its figures during the show this week, but if the Fusion four-cylinder gets 34 mpg on the highway it will be the most fuel-efficient midsize sedan on the market. The gains in efficiency are due to the new six-speed manual and automatic transmissions. Ford says it also gains a second in 0-60 tests, besting both the Honda Accord and the Camry.
The 3.0-liter V-6 from the 2009 Fusion gets upgraded by nearly 20 horses, to 240 hp, while getting a modest bump in efficiency of 1 mpg in the city and 2 mpg on the hwy. 2009 totals were 18/26 mpg city/highway. The 3.0-liter engine is flex-fuel capable, and will produce 250 hp when running on E85 ethanol. Both the four-cylinder and the 3.0-liter V-6 have a sharper turning radius than the 2009, trimming an entire foot of those figures, which should make them feel more nimble.
The new 3.5-liter V-6 comes only in a new Sport version, with 263 hp. It also gets standard 18-inch wheels and different suspension tuning than the other two models. It gets a larger lower grille so it looks more menacing, as well. The two V-6s come with a standard six-speed automatic transmission with an optional sport-shift feature.
Both V-6 models will also be available with optional all-wheel drive.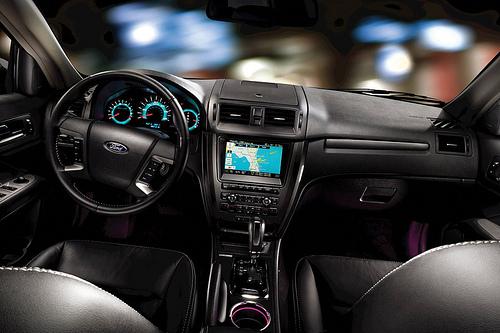 Inside all models is a fancy new gauge cluster with new lighting and a welcome screen. Ford says it's upgraded the windshield, front windows and sound-deadening materials to make the Fusion quieter than the Accord and Camry; it even offers test results on that. We'll have to wait until we drive it to see if it's a marked improvement.
New materials cover the dashboard, and the center stack of controls features an entirely new layout. An optional navigation system sports an enormous 8-inch LCD screen.
The 2010 Fusion will also have a blind-spot monitoring system that not only checks your blind spots while you're on the highway, but also alerts you if cars approach when you're backing out of a parking spot. The latest version of Ford's Sync entertainment system, now with 911 dialing, will also be offered. It was standard in certain models last year, but Ford hasn't broken down specifics for 2010 yet. It's previous option price was around $400.
We're very intrigued by many of Ford's claims as far as the new Fusion's mileage are concerned. If it is indeed as efficient as they say, and if the looks attract attention, it could be a major hit for the company, just like the first Fusion was.