2008 L.A. Auto Show: 2010 Mercury Milan
Competes with: Chevy Malibu, Nissan Altima, Toyota Camry
Looks like: Mercury's version of the Fusion is the better-looking sibling
Drivetrain: 175-hp, 2.5-liter four-cylinder with six-speed manual or automatic; 240-hp, 3.0-liter V-6 with six-speed automatic transmission
Hits dealerships: Spring 2009

The Mercury Milan is virtually identical to the Ford Fusion in most respects. It features two of the same engines as the Blue Oval version and the same transmissions. So why would anyone buy one over a Ford? Well, it's better-looking, that's why.

We've never been sure what's made people pick such similar Mercury models over Fords in the past, but in the new Milan we certainly see one reason. The sophisticated front end is much less in-your-face than the blinged-out chrome on the Fusion, with headlights that, while big, simply accent the overall design.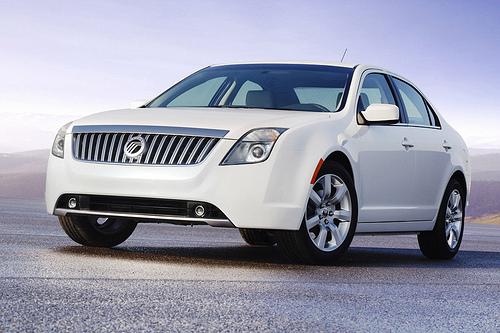 Ford lists the engines with the same horsepower as its Fusion, but doesn't say gas mileage is the same, which we'd expect it would be. The lack of information may not be intentional; Mercury is often treated like the red-headed stepchild in the Ford family.
One notable difference, however, is the lack of all-wheel drive that's available in V-6 Fusions.
Mercury models usually come with more standard equipment than Fords to warrant their slightly higher prices, but, again, we don't have feature breakdowns yet.
What we do know is that the interior is slightly different than the Fusion's, with, again, a more sophisticated design around the controls. The seats are also designed for comfort and will be two-toned, unlike the Fusion's.
The Milan will also come with features like Sync and the blind-spot monitoring system we mentioned in the Fusion report. We expect Sync is the type of feature that would be included standard, as it was in the previous Milan.
There are more photos below. Let us know if you think this Mercury sets itself apart.