Acura Dealers to Accelerate Maintenance Service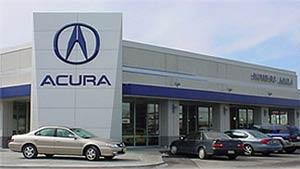 When you take your car in for basic services, like an oil change, do you go to a dealer or a quick-lube operation?
Acura hopes to win back the quick-lube crowd by implementing its Accelerate service program for owners, according to Crain News Service. The idea is for the service departments of Acura dealerships to begin offering quick, affordable services that draw owners back to dealerships.
This will include an oil change, tire rotation, tread checks, brake-pad checks, air- and cabin-filter monitoring, full vacuuming and a car wash for $38.95, with the promise that the whole operation will take less than 47 minutes. (Why 47, though? Would 45 be too hectic? And 50 too long?)
According to Acura, just over half of a dealership's profits come from parts and services, so it makes sense that they want to give owners more reasons to pass up the quick-lube joint. The program will begin in select dealerships in Chicago, Boston, Atlanta, Dallas, Philadelphia and suburban Los Angeles, but will expand to every dealership by 2011.