Amid the Storm, Boxes Look Good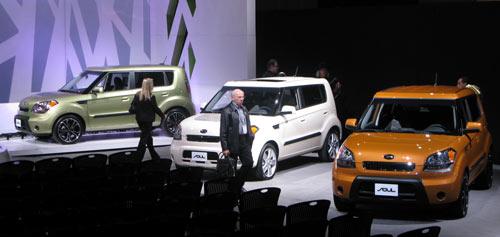 At last week's auto show, everyone from the executives to the cab drivers circling the Staples Center knew that behind the confetti was an industry on the verge of meltdown. Car shoppers are trading in pricier models for less expensive ones, or putting off purchases entirely as new-car loans dry up faster than the Colorado River. Yet two introductions, the Nissan Cube and Kia Soul, seem poised for this sort of reality: Like the Scion xB, both have offbeat styling and roomy cabins — and if their presumed mid-teens prices hold true, either one could represent a whole lot of car for the money.
At the show, I queried a few experts to hear their thoughts. The prevailing sentiment: a cautious thumbs-up.
"People are changing decisions; they're buying less of a vehicle right now," J.D. Power and Associates forecasting director Jeff Schuster said. "It's not necessarily because of gas prices. In the past it was, and there's a pretty good chance that it will be in the future. If you look at the vehicle type, it does offer a very flexible configuration. So you get good passenger space, good height for taller buyers that normally may not fit into a smaller vehicle.
"Even when you're in a down market, people still want to identify with a vehicle they want to buy, and these types of vehicles offer that."
IHS Global Insight analyst Tracy Handler agreed.
"It's the styling, the price," Handler said. "Fuel economy is OK for them. I think they give a younger driver a sense of stability, being the higher-riding height. At least where I live, so many of the younger drivers have grown up driving SUVs."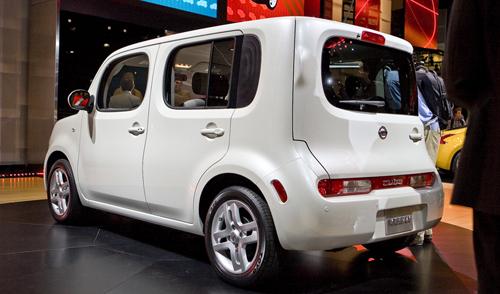 Marketing the boxes to twentysomethings — a group Scion, Nissan and Kia vigorously target – seems tricky these days. On the upside, such buyers don't always feel the traditional pinch of recession: "As credit availability opens up, this young buyer will be looking at an opportunity," Kia's vice president of sales, Tom Loveless, said. "Whereas some, perhaps, who have gone backward in their 401(k) feel less wealth than previously, the younger demographic doesn't have the issue."
On the downside, young buyers typically lack credit.
"It's troublesome to those buyers who don't have the length and history of another buyer, regardless of what the score is," Schuster said. "Because they are likely in first jobs or very early on in their career, just establishing credit, there may be a tendency to pull back in this environment. But I don't know that it's any different than the rest of the marketplace at this point."
Help from the 'rents, of course, can mitigate this: "I wouldn't be surprised to see people going to mom and dad and saying, 'What about co-signing,'" Global Insight's Handler said. "Credit is tight, but I think there's still money out there."
Laura Johnson, product manager for Nissan's small cars, said she's counting on that.
"We always knew that about 36 percent of young people get help from parents, so there still may be a joint purchase," Johnson told me at the Cube's unveiling.
If buyers go it alone, there's help in various assistance offers. Scion has specific programs for buyers with little credit history or no co-signer, and all three brands knock prices down a few hundred dollars for recent college grads. That isn't much, to be sure, but preferential offers in any form can help.
Even if young shoppers don't — or can't — build sales, all three cars can probably bank on older buyers picking up the slack. Nissan's Johnson called it "bi-modal segment distribution," adding that she expects cars like the Cube to garner particular interest among empty-nesters.
Kia expects the same for the Soul.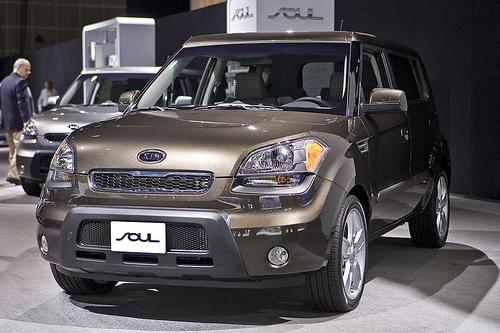 "We'll also see a lot of cross-shops from people who may be moving out of SUVs, looking to downsize to something different," Kia's vice president of marketing Michael Sprague said. "We think it will naturally appeal to a lot of different people."
So what happens when young shoppers see others a full generation or two older checking out the same car? It seems like a car dealer's dilemma: "The youth buyer, if they're looking at it as a statement, they certainly don't want to see their parents driving one," Handler said.
Scion knows this well. Buyers for the brand are young and old — to such a degree that former vice president Mark Templin reportedly told dealers a few years back to sell the stripped-down, tuner-spec tC coupe only to those who would modify it.
At last week's show, corporate manager Dawn Ahmed said there are many who buy the xB for purely utilitarian reasons, but age doesn't necessarily translate to usage: "You get owners significantly older than our median age who are customizing that car," Ahmed said. "If you go to our owners' events, older Scion buyers and younger Scion buyers are brought together by the passion for the brand. That's the commonality there."
Whatever their intentions, the influx of car shoppers across all segments looking for a cheaper ride bodes well for the Cube and Soul — and probably the xB, too: "It creates a little more potential for the vehicles to even have a broader appeal than they otherwise might," Schuster said. "I think in a relative sense these are the right vehicles at the right time."