First Look: 2010 Porsche Panamera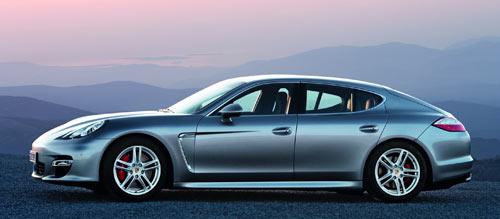 Finally, we have the first official information and photos from Porsche of its all-new four-door Panamera GT. The car has been widely anticipated by driving enthusiasts and Porsche fans for well over a year, with a healthy bit of criticism directed at its design.
The Panamera is 195.7 inches long — 7 inches longer than a Porsche Cayenne SUV but 10 inches shorter than a Mercedes-Benz S-Class. It represents a new subsegment in the luxury class: A four-door sports car that will arrive at dealerships this spring.
Surprisingly, Porsche is outfitting this new rear-wheel-drive halo car with both a powerful V-8 engine and a less-powerful V-6 option. There aren't specific trim-level specifications yet, but the company says power will range from 300 to 500 hp. There will be a six-speed manual transmission as well as an optional seven-speed PDK or double-clutch transmissions. The top trim will also be available with all-wheel drive.
No matter what the Panamera is packing, all the talk is going to be about its looks. From straight-on it's probably the most radical design the company has given any of its cars' trademark front ends, yet it's still recognizable as a Porsche. The profile, however, is where the love/hate for the car's design will come into play. Even from the rear, the hatchback four-door looks good.
Of course, you can find more pictures below, along with comments on what we're sure will be a hotly debated new car.