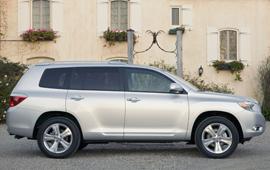 Toyota announced a couple months back that it would produce a four-cylinder version of its Highlander crossover. Today, the company has published some of the specs behind the newest model. The new Highlander is powered by a 187-hp, 2.7-liter four-cylinder with 186 pounds-feet of torque. It's mated to an all-new six-speed automatic transmission. This is the same engine and transmission in the new Venza, and with good reason; Toyota's K-platform underpins the Venza, Highlander and Camry, so putting the new engine in these models is cost-effective for the company. It also gets good mileage.
The new Highlander has received EPA fuel-economy estimates of 20/27 mpg city/highway (22 mpg combined), which is great for a midsize crossover. The newest Highlander is rated 2 mpg better than the V-6 Highlander in the combined cycle. The crossover also blows its competitors (Mazda CX-9, Hyundai Santa Fe and Honda Pilot) out of the water, mainly because those cars feature more-powerful power plants. As of now, the four-cylinder Highlander is only planned as a front-wheel-drive model.
Toyota says to expect noise and vibration levels similar to the V-6 Highlander, which is pretty quiet. Acceleration is adequate, at 9.7 seconds in 0-60 mph testing, which isn't bad for a 4,000-pound vehicle. The four-cylinder has a maximum towing capacity of 3,500 pounds and can seat seven when properly equipped. All of this sounds nearly identical to the Venza that Cars.com senior editor David Thomas recently tested. In that car, Thomas found the four-cylinder engine merely adequate in terms of acceleration.
Pricing wasn't announced, but the current base price of a V-6 Highlander is $27,600. Taking the Venza as an example, the difference between the V-6 and the all-new four-cylinder powertrain is approximately $1,800. That kind of thinking puts the two models in nearly identical price ranges.
This fuel-efficient Highlander couldn't come at a better time for Toyota, with the crossover's sales down nearly 30% for the month and 12% for the year since its full redesign. The inline-four model should show up at dealerships in mid-to-late January, about the same time the four-cylinder Venza goes on sale.