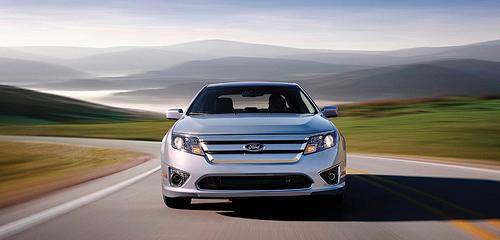 Competes with: Chevy Malibu Hybrid, Toyota Camry Hybrid
Looks like: Ford is serious about going green
Drivetrain: 155-hp, 2.5-liter four-cylinder hybrid with continuously variable automatic transmission
Hits dealerships: Spring 2009
Ford has upgraded its hybrid system to deliver extremely fuel-efficient versions of its new Fusion and Mercury Milan sedans. The two effectively double the number of hybrids in Ford's environmental arsenal — a must in today's green-centric times. What's of note is not only that Ford is getting into the game, but that the hybrids deliver on efficiency like hybrids should.
Ford says the pair will best the Toyota Camry's city mileage by at least 6 mpg, meaning at least 39 mpg. Because it doesn't say highway mileage bests the Camry, we're guessing it doesn't. We'd expect it to be similar to the Camry's, though, which is 34 mpg.
Each sedan can drive in full electric mode up to 47 mph, which is much faster than most hybrids on the market can go on electricity alone. Depending on how you drive, you could make a trip to the grocery store without using the gas engine at all. However, both pack nickel-metal-hydride batteries — like those found in all current hybrids — not lithium-ion batteries, which are expected to lead the next generation of hybrids.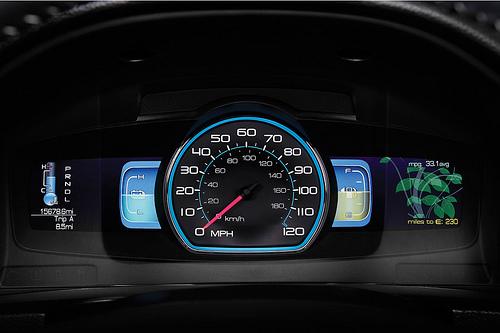 A unique feature on the hybrids is a new informative gauge cluster called Smart Gauge with EcoGuide. Basically, drivers can choose how much information about the hybrid system they want to see. There are four modes with different levels of information, all displaying on top of the standard speed gauge:
Inform: Fuel level and battery-charge status
Enlighten: Adds electric-vehicle-mode indicator and tachometer
Engage: Adds engine output power and battery output power
Empower: Adds power to wheels, engine pull-up threshold and accessory power consumption
That's a lot of information to store in one place. Giving drivers the ability to limit how much information they see is a great idea, especially after the novelty of owning a hybrid wears off.
We're not sure why the hybrids ride on standard 17-inch wheels. Sixteen-inch wheels might be better, but they might look awkward with the new sedans' bold design. Inside, the upholstery is made of 100% recycled materials.
We're impressed with the numbers on Ford's new hybrids, and we're anxious to test out their all-electric around-town capabilities. We'll also be dutifully awaiting final mpg figures, which will make or break the Fusion and Milan hybrids in the market.