GM Announces Pricing for Sierra Hybrid, Silverado Hybrid, Pontiac G3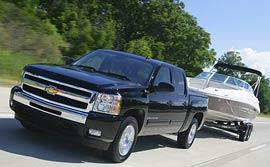 GM released pricing information for two of its upcoming 2009 models, including its hybrid pickup trucks. The 2009 GMC Sierra Hybrid will start at $39,365 for a 3HA model. The Sierra Hybrid has a fuel economy rating of 21/22 mpg city/highway for the 2WD model, while the 4WD is estimated at 20/20 mpg.
The 3HB model will go for $45,500 and include amenities like a Bose sound system, rear-park assist and leather bucket seats. A $2,200 federal tax credit is available for Sierra Hybrid buyers.
The 2009 Chevy Silverado Hybrid (pictured) will start at $38,995, including a $975 destination charge, for the 2WD 1HY model and $45,130 for the 2HY model, which like the Sierra upgrade includes navigation, leather seats and rear-park assist. The Silverado gets a combined fuel economy rating of 21 mpg from the EPA.
Meanwhile, the Pontiac G3 hatchback will start at $14,995 when it hits showrooms in March 2009. The G3 has a fuel economy rating of 34 mpg on the highway, making it Pontiac's fourth vehicle that gets better than 32 mpg.