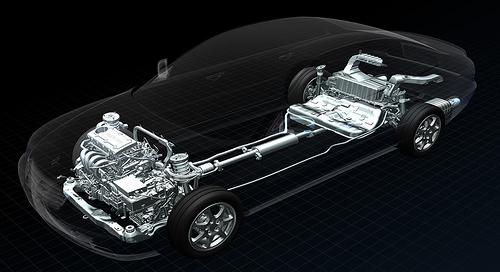 Looks like: The Hyundai Sonata sedan's innards
Defining characteristics: A new hybrid powertrain and battery
Ridiculous features: None
Chance of being mass-produced: 100%
We're not sure why Hyundai is calling this a concept, because it's already said a Sonata Hybrid will hit dealerships in the U.S. in 2010. That's big news not only because this will be Hyundai's first hybrid in the U.S., but because it will use a lithium-polymer battery that's unlike any nickel-metal-hydride-powered hybrid currently on the market, or any lithium-ion-powered hybrids planned for the near future.
Hyundai says the lithium-polymer battery is more efficient and lighter than other battery technologies, and that's two things you might like in a fuel-efficient car. Plus, it's less expensive to make than lithium-ion batteries. The battery is part of a system featuring a 2.4-liter four-cylinder engine, regenerative braking, a six-speed automatic transmission and a 30kW electric motor.
Hyundai hasn't said what kind of fuel economy to expect from this system, but we assume it will be on par with the Toyota Camry Hybrid, if not better.