Up Close: 2010 Mercury Milan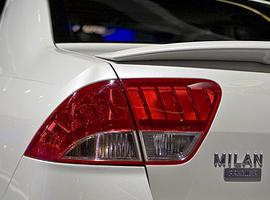 After checking out the new Fusion at Ford's stand, I poked around the car's Mercury sibling. I'm torn over the car's design. Everything above bumper-level looks fine, with the sort of mini-Sable styling you'd expect from Mercury. The lower air dam? Not so much. The fog lights seem distracting, and there isn't enough substance underneath.
Inside, the Milan has the same strengths and weaknesses as the Fusion. The dashboard has soft-touch materials, but their grainy finish is unappealing. The center controls are crowded, but the navigation system is ginormous and, if it's consistent with the rest of Ford's latest-generation units, should offer first-rate graphics and usability. Backseat legroom and headroom are decent but not generous. Storage areas are impressive — there's a decent-sized center console plus a compartment atop the dash, as the old Fusion/Milan had.
If it gets segment-leading gas mileage and starts at a decent price, the Milan should see relative success. For my money, though, the Fusion offers the same package in a far more attractive wrapper — a reversal from last year's Milan, which I thought looked a bit better than its Ford counterpart. More photos below.