Sign of the Times: GM Cancels L.A. Auto Show Reveals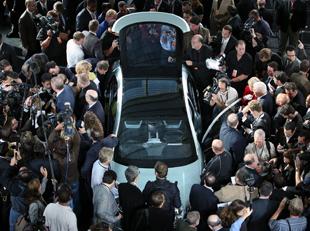 GM announced it has canceled its plans to host a press conference at next week's L.A. auto show. Originally, the company had planned to unveil its all-new Buick LaCrosse sedan and Cadillac SRX crossover at the show. Instead, the company says it has decided to postpone those reveals until a later date — we assume the Detroit auto show in January — because any new models would be overshadowed by financial news. You know — the kind about government bailouts and the possible collapse of the auto industry.
That doesn't mean there won't be new GM products to see in L.A., though. A restyled Pontiac G6 lineup will be on hand, and it will also be the first time most people will get to see the production Chevy Volt, Chevy Cruze and Chevy Camaro at a major consumer show. GM will also display the Saab 9-X Air concept that debuted in Paris earlier this year. Stay tuned for our coverage of the L.A. auto show next week. We also expect more news to come over the next few days.
GM scraps plans for news conference at upcoming L.A. Auto Show (The Detroit News)