Unsold Cars Pile Up at West Coast Port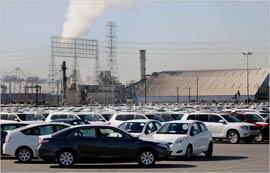 For a rather stunning visual of a miserable car market and a stagnant economy, look no further than the Port of Long Beach in California where thousands of unsold cars sit in industrial-sized parking lots, unwanted by dealerships or buyers.
Normally, these cars would have only a temporary stay in these lots, but recently Toyota, Mercedes-Benz, and Nissan have all leased space to store these vehicles that no one wants. Toyota, having already leased six acres purely for overflow storage, is looking for more. Shrinking demand, especially in Southern California, has forced it to find new storage space for the cars it has coming off boats crossing the Pacific.
Perhaps this is the one area where domestic automakers have more experience. GM, Chrysler, and Ford have been storing unsold vehicles at the Michigan state fair grounds and at its airports for two years.
(Photograph from The New York Times)
A Sea of Unwanted Imports (The New York Times)