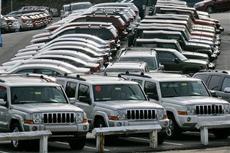 As executives head to Capitol Hill today to discuss a potential bailout of the U.S. auto industry, we figured it was a good time to recap some of the latest news from around the web. If you find something interesting on the interwebs, please share it in the comments with a link. If it's worthwhile, we'll add it to the post itself.
Over 100 CEOs of auto suppliers send a letter to the House and Senate to request relief. Many insiders point to the intertwined supplier base as a major source of trouble if any of the Detroit Three go down, sending ripple effects to every U.S.-producing auto company, including imports.
Opel, GM's German subsidiary, will not share funds of a German government-backed bailout with its parent company. Opel is liquid, unlike its parent company, but is applying for aid as a "precautionary measure." Opel employs 26,000 people in Germany. GM employs 96,000 in the U.S.
Retired Army General Wesley Clark says "What's Good for G.M. is Good for the Army" in a New York Times op-ed. It's an interesting piece focusing on history, but even Clark concedes the modern military doesn't rely on the Detroit Three directly for its forces.
If you didn't know already, this is a great time to buy a new car if you have credit, a steady job and faith that the brand you buy will be around in a few years. One dealer: "If they want to buy a car, they are going to leave with a car."

The public doesn't seem so keen on a bailout.While a poll shows lukewarm support.