Recall Alert: 108,429 Dodge Ram Pickups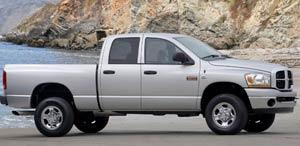 Chrysler has issued a recall for 108,429 2007-08 Dodge Ram 2500 and 3500 pickup trucks, according to the National Highway Traffic Safety Administration. The recall comes after reports that 14 models with the 6.7-liter Cummins diesel engines caught fire due to noise insulation touching the engine's exhaust-gas recirculation cooler.
EGR systems recirculate harmful pollutants back into the engine at a lower temperature in diesel models. The problem is not with the system itself, but with the sagging insulation, which has come into contact with the hot EGR system.
Dealers will install a bracket in the engine compartment to keep the insulation in place and out of reach of the EGR system. Owners can contact Chrysler at 800-853-1403 or the NHTSA hotline at 888-327-4236.