2010 Kia Soul Will Start at $13,300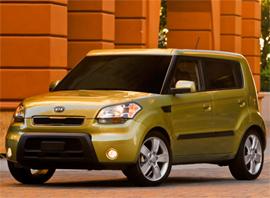 Today, Kia officially announced pricing for its all new Soul hatchback which goes on sale this spring. A starting price of $13,300 before destination charges ($695) is considerably low, especially considering air conditioning is standard. Move up to a higher trim level and stability control is also standard. Mileage for all models is expected to be more than 30 mpg.
There are four trim levels with odd naming structures: Soul, Soul+, Soul! and Soul Sport. Each model adds more standard equipment and available options, which we break down below.
Compared to other cars on the market, the Soul is pretty inexpensive. It's cheaper than the Scion xB ($15,750), Scion xD ($14,650), Chevy HHR ($18,720), Dodge Caliber ($16,210), Honda Fit ($14,750), Jeep Patriot ($17,290), Pontiac Vibe ($17,050 w/air), Suzuki SX4 hatchback ($15,939) and Toyota Matrix ($16,290). The closest competition is the Nissan Versa hatchback with A/C, which starts at $13,110. Most of these vehicles either don't come with stability control or offer it as an added option.
Kia Soul: $13,300, including 1.6-liter engine, power windows, active front head restraints, 15-inch steel wheels
Kia Soul+: $14,950 w/manual transmission, $15,900 w/automatic; adds 2.0-liter engine, keyless entry, cruise control, leather steering wheel, privacy glass, Bluetooth; power Moonroof package with fog lights is an extra $800; audio package is $400

Kia Soul!: $16,950 w/manual transmission, $17,900 w/automatic; adds audio package and moonroof as standard equipment; metal finish trim

Kia Soul Sport: $16,950 w/manual transmission, $17,900 w/automatic; adds sport-tuned suspension, red-black interior seats, metal finish trim; power moonroof an extra $700