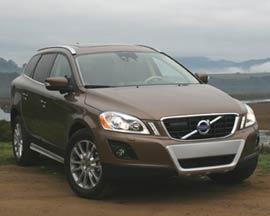 Volvo announced base pricing for the 2010 XC60 T6 AWD at $37,200, not including a destination charge of $825. This includes standard features such as leather seats, Sirius Satellite Radio, HD radio and Bluetooth. Also, if you get in line quickly, Volvo will also throw in a panoramic moonroof.
Several option packages include a Climate Package for $1,000, a Technology Package for $2,700, Collision Avoidance for $1,695 and a Convenience Package for $1,000.
This price is right in-line with premium competition like the new Mercedes-Benz GLK350 with AWD ($35,900) and BMW X3 ($39,700). But will folks buy a Volvo for that much money? A fully loaded AWD VW Tiguan can be had for $32,565, and an Acura RDX and Infiniti EX35 also cost less than the Volvo.
The new Volvo XC60 is scheduled to go on sale this March.