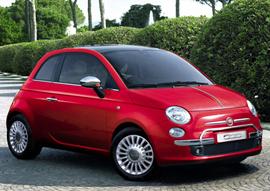 Fresh off a multibillion dollar bailout, Chrysler has announced a partnership with Italian automaker Fiat. Just hours after rumors hit the media about such a deal, Chrysler released an official statement explaining the pact. Fiat will share its small-car platforms and fuel-efficient engines — which are popular in Europe — with Chrysler in exchange for 35% stake of the American automaker. No cash will change hands, just a stake in Chrysler.
The plan will likely send Fiat products — like the 500 shown here — to be built in the U.S. as Chrysler and Dodge products. There likely aren't any Jeep-esque vehicles in the Fiat portfolio.
There are many questions left about the deal. Mainly it doesn't seem like Fiat is getting enough in return for its contribution. Over the past few years, Fiat has contemplated a return of the Alfa Romeo brand to the U.S., but distribution was a main concern. Chrysler's statement mentions distribution in vague terms. Perhaps when the economy recovers the gorgeous slate of modern Alfas will go on sale in the U.S. That would certainly give Chrysler a true luxury brand to sell.
What does this mean to you?
Simply, Chrysler should stay in business a bit longer. Don't expect to see Chrysler 500s anytime soon. Even a straightforward badging job could take over a year to go on sale, especially if Chrysler is intent on building the cars in the U.S. Their partnership with Nissan quickly produced a Dodge version of the Versa in South America, but it was not built in a new plant, which would take months to prepare for a new car. Still, Fiat has a number of small and efficient cars that could become new Neons or replace the Caliber. They'd also likely have far superior interior quality to anything Chrysler currently produces. And speaking of rebadging, the Chrysler wings would look pretty fitting on a Fiat grille.
Chrysler can now kill development of small-car platforms and even a replacement for the ailing Sebring with this new partnership. That will save them a lot of money. There's no word on how the executive suite will change at Chrysler, if at all.
The sting of a bailout will certainly resonate today after a foreign automaker has taken advantage of U.S. government loans that saved Chrysler's very existence just weeks ago. With most of the country focused on events in Washington, D.C., there's no doubt that the timing of this announcement might have been planned to deflect attention from it. The move itself may make sense to industry insiders, but the public may not be happy with it.